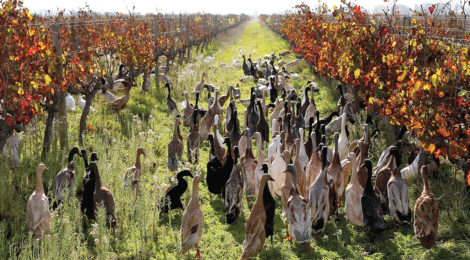 Duck Army
Wages War on Pests in South African Vineyard
REUTERS
At 9:45 a.m. each day, more than 1,000 Indian Runner ducks are released for the first of two sorties at Vergenoegd vineyard in Stellenbosch, South Africa. Their mission: Seek and eat thousands of tiny white dune snails feasting on budding vines.
"Before we had the ducks, we had to put down snail bait, a pesticide. But for the past nine years I have been here we've used very little snail bait — almost nothing — because the ducks eat all the snails and other insects," said vintner and horticulturalist Marlize Jacobs.
Used for centuries in Asia to control pests, the ducks stand upright like penguins and are slim enough to fit between rows of vines. They do not waddle; they run.
The flock, which started with six ducks in 1983, gives Vergenoegd extra points in the wine industry's sustainability certification process. The 57-hectare vineyard now uses so few chemicals, it does not need to declare them, Jacobs said.
Parading on the farm each day, the soldier-like birds are guided by a herder and can clear the snails from between half a hectare and a whole hectare a day. Besides fungal diseases, the snails are considered the main threat to vines at the farm.
"All over the industry and all over the world, dangerous harmful pesticides are being phased out, so I believe one day you will be forced to use alternative methods because pesticides kill all insects, even the friendly insects," Jacobs said.
However, the high cost of keeping the birds is a downside. On a similar-size farm, growers could spend about 50,000 rand ($3,200) a season for pesticides, compared with 30,000 rand a month on ducks, which are kept in protective pens and fed grain to augment their snail diet, Jacobs said.
(

0

)
(

0

)