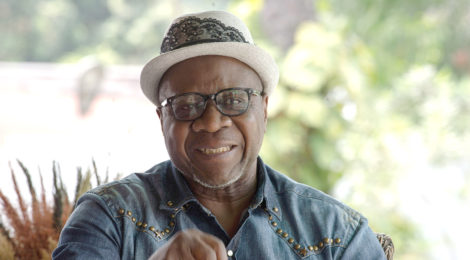 DRC Honors Rumba King
AGENCE FRANCE-PRESSE
The Democratic Republic of the Congo's rumba king, Papa Wemba, was posthumously awarded one of his country's highest honors in May 2016, after he collapsed on stage and died at age 66.
At a ceremony in the national Parliament in Kinshasa, where Papa Wemba's body lay in state, DRC's President Joseph Kabila made the singer a grand officer of the Order of National Heroes Kabila-Lumumba for "the merits, the loyal and eminent services rendered to the Congolese nation."
Papa Wemba collapsed while performing at a festival in Côte d'Ivoire on April 24, 2016. The flamboyant musician, who led the Kinshasa music scene for four decades, died before reaching a hospital.
An enormous red hat, modeled on the one the renowned sharp dresser was wearing at the time of his death, served as the roof of the chapel erected to house his coffin inside Parliament. A life-size effigy of the singer, dressed as he was during his last concert, stood behind it.
"Papa Wemba, the Congo orphaned," read a giant banner at the entrance to the building, where the funeral procession arrived early in the morning to be welcomed by the city governor and a military band. A Roman Catholic priest accompanied the coffin, which was carried by eight men in black and draped in the national flag.
"This is great suffering and sadness," said Biby Krubwa, who starred alongside Papa Wemba in a 1988 film, La Vie est Belle (Life is Beautiful), about an aspiring singer who comes to Kinshasa. "Papa Wemba is a baobab that has fallen."
A father of six, Papa Wemba helped pioneer a blend of Congolese popular music with electric rock during the 1980s, when an interest in world music stirred in Western countries.
(

0

)
(

0

)