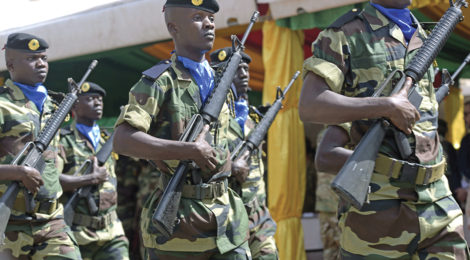 Senegal, U.S. Sign Defense Cooperation Agreement
REUTERS
Senegal and the United States signed a cooperation agreement to ease the deployment of American troops to the West African nation to counter humanitarian crises, natural disasters and terrorist attacks.
"Terrorism knows no border, and it's very important for everyone to cooperate," James Zumwalt, U.S. ambassador to Senegal, said during a joint news conference in Dakar with Senegalese Foreign Minister Mankeur Ndiaye.
About 40 U.S. Department of Defense personnel are stationed in Senegal, according to U.S. Africa Command. The U.S. Embassy in Dakar said that number would not increase under the deal.
"This agreement is about access, is about coming when there is an urgent desire, and when both sides agree," Zumwalt said.
It sets out the rights and responsibilities of future U.S. access to Senegalese facilities for joint training and possible troop deployments. Ndiaye said the pact was the first of its kind in Sub-Saharan Africa and would bolster Senegal's ability to respond to growing challenges.
"Crises are not always predictable; that's why this agreement is a long-term agreement," he said.
Senegal faces a growing threat from extremist groups after a string of deadly attacks on neighboring countries claimed by al-Qaida in the Islamic Maghreb. The extremist group has made clear Senegal is in its sights due to its close ties to France, which has 3,500 Soldiers fighting alongside regional armies against Islamist militants in West Africa.
The U.S. military used Senegal as a staging post in 2014 to transport troops, health workers and supplies to West Africa to combat a deadly Ebola outbreak.
(

0

)
(

0

)