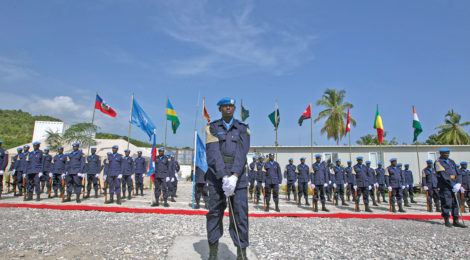 Rwandan Police Lend Helping Hand in Haiti
THE NEW TIMES, RWANDA
For six years, members the Rwanda National Police have served as part of the U.N. mission in Haiti. The contingent, called a "formed police unit," has 160 members, and 26 other Rwandan police officers are stationed in various sectors across the country.
During a visit to the contingent in June 2016, Rwandan Inspector General of Police Emmanuel Gasana met with police deployed in Jeremie, Haiti. Gasana urged the police officers to uphold Rwandan values, maintain professional conduct and live up to the required standards when executing the mission mandate. He further reminded the officers that they should remain good ambassadors of the country.
The sixth unit of officers returned home in July 2016 and was replaced by a seventh unit. Back in Rwanda, Commissioner of Police Joseph Mugisha, who leads the returning unit, said the most rewarding aspect of the deployment was connecting with Haitians through human security activities.
"Human security has become part and parcel of Rwandan peacekeepers, and as such, we taught the people how to survive by supporting themselves when they put ideas and work together, and this helped us connect and work well with them," Mugisha said.
The other police units in Haiti are drawn from Bangladesh, India, Jordan, Nepal, Pakistan and Senegal.
(

0

)
(

0

)