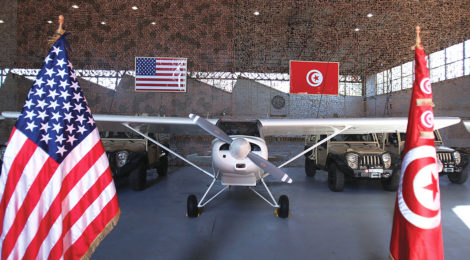 U.S. Donation Boosts Tunisia's ISIS Fight
REUTERS
The United States donated jeeps, communications technology and small aircraft to Tunisia to help protect the border with Libya, where ISIS has gained ground and set up training camps.
The North African country was also expecting to receive a number of attack aircraft, Defense Minister Farhat Horchani said, although he did not give details on who would supply them.
Tunisia had already built a 200-kilometer barrier along the frontier to guard against militants since gunmen trained in Libya targeted tourists in attacks on a beach hotel and a Tunis museum in 2015.
ISIS also launched a major assault on the border town of Ben Guerdane in March 2016.
U.S. Deputy Assistant Secretary of Defense Amanda Dory said at a ceremony in Tunis that the jeeps, Maule light aircraft and a communication system between them would help Tunisian forces improve their border monitoring.
Horchani said the U.S. package was worth about $20 million. The U.S. ambassador said it consisted of 48 jeeps and 12 aircraft.
A small group of Islamist militants tied to al-Qaida is fighting in remote mountains near the Algerian border. Other Tunisian militants have split to join the Islamic State in Libya.
(

0

)
(

0

)