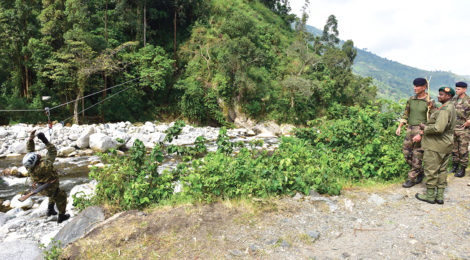 Uganda Readies Mountain Soldiers
THE DAILY MONITOR, UGANDA
Uganda will establish a new specialized mountain warfare force to secure the nation's mountainous regions. President Yoweri Museveni made the announcement at Kyanjuki village in Kasese district at the foot of the Rwenzori Mountains in June 2016. He explained that the difficult terrain needs to be secured to promote tourism.
"These places such as the Rwenzori Mountains are very beautiful, and we should cherish them and make them safe," Museveni said. "Even non-Ugandans love them; that's why you see them coming here every day and visiting to see them, and as a country, we earn from them."
The new Army unit was trained by French alpine troops.
Mountain warfare is one of the most dangerous types of combat because it involves surviving the enemy as well as extreme weather and dangerous terrain. The new Army unit is helping combat violence in Kasese district, where about 50 people died between February and June 2016 in what was labeled ethnic clashes.
French lead instructor Capt. Pierrick Balanche commended the Uganda People's Defence Force for being a "reliable force," adding that the trainees were good learners, disciplined and physically fit.
(

0

)
(

0

)