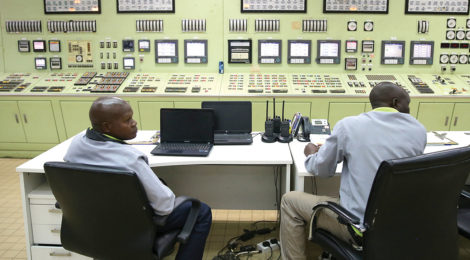 Bank Wants to Give Africa a High-Five
When I took over as the eighth elected president of the African Development Bank on September 1, 2015, I was elated at the greater possibilities that lie ahead for Africa and the role that the bank can play. 
To further accelerate the development of Africa, the bank has raised the bar on its level of ambition. We call them the High-Fives for Africa: Light up and power Africa; Feed Africa; Industrialize Africa; Integrate Africa; and Improve the quality of life for Africans.
LIGHT UP AND POWER AFRICA: Over 645 million Africans do not have access to electricity — and 700 million go without access to clean cooking energy, with 600,000 dying each year from indoor pollution from reliance on biomass for cooking. The African Development Bank has developed the New Deal on Energy for Africa to accelerate universal access to electricity in Africa by 2025. The goal is to add 160 gigawatts of new generation capacity via the grid, deliver 130 million new grid connections and 75 million off-grid connections. The African Development Bank plans to invest $12 billion in the energy sector over the next five years, unlock Africa's huge and untapped renewable energy resources, and leverage $40 billion to $50 billion into the energy sector. The bank will also triple its climate finance to Africa to $5 billion per year by 2020 to support climate change adaptation and mitigation efforts.
FEED AFRICA: Africa must feed itself — and Africa must become a global powerhouse in food and agriculture. With 65 percent of all the arable land left in the world to feed 9 billion people by 2050, Africa will have to feed the world. The bank will accelerate support for massive agricultural transformation across Africa — while building resilience to climate change — to fully unlock the potential of agriculture, to lower food prices, increase foreign exchange earnings, strengthen macroeconomic and fiscal stability, revive rural areas, and in particular, create jobs for hundreds of millions of Africans.
INDUSTRIALIZE AFRICA: Africa currently accounts for just 1.9 percent of global manufacturing. There is an urgent need for Africa to rapidly industrialize and add value to everything that it produces, instead of exporting raw materials that make it susceptible to global price volatilities. The bank will support private sector and financial market development for the rapid industrialization of Africa.
INTEGRATE AFRICA: African trade currently represents only 2 percent of global trade, and intra-African trade is just about 12 percent of Africa's total, compared to 60 percent in Europe and 35 percent in Asia. This is not acceptable. Regional integration is critical for boosting economic growth in Africa. The bank will continue to invest heavily in high-quality regional infrastructure — especially rail, transnational highways, power interconnections, information and communications, and air and maritime transport. Easing travel across the continent will reduce the cost of doing business and boost private sector activity.
IMPROVE THE QUALITY OF LIFE FOR AFRICANS: The bank will accelerate investments in urban infrastructure, public health and nutrition, water and sanitation, education, vocational training, and skills development. The African Development Bank will soon be launching the Jobs for Africa's Youth Initiative, which will work across all African countries with the goal of reaching 50 million youths over 10 years and stimulating the creation of 25 million jobs. It is expected to add $30 billion to African economies. We will keep Africa's youth in Africa by expanding economic opportunities.
(

1

)
(

0

)