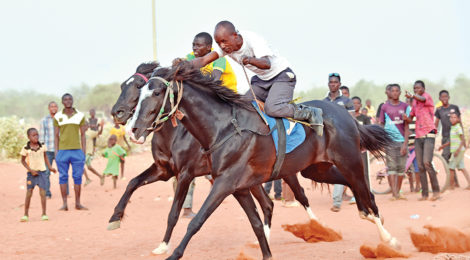 Niger Keeps Horse Racing Legacy Alive
AGENCE FRANCE-PRESSE
Niamey's dusty racing track is a far cry from Niger's equine glory days, when horses bred in the country enjoyed international fame. Although formal meets ended 30 years ago, hundreds of young Nigeriens gather on Saturdays to witness improvised races. Professional jockeys, trainers and bookmakers all jostle to make money and entertain the crowds.
The country hopes past glories can be revived with the construction of a new horse-racing complex.
On a given day, crowds of several hundred turn out to watch, and as many as 20 jockeys depend on their results to live. Those who place first or second get envelopes containing 20,000 to 40,000 Central African CFA francs ($35 to $70) depending on the value of bets placed.
Some jockeys work directly with breeders and receive monthly salaries of up to 300,000 CFA francs ($524), a significant amount in a country where most people live on less than $2 a day. "Rivalries are strong," admitted one rider known to fans as Papa Jockey. "We sometimes elbow each other."
Alio Daouda, a magistrate and breeder who is a member of Féniseq, the Nigerien horse-racing federation, is seeking investors to revive the country's horse-racing sector. "We have the space; we could build a hotel, a conference center," Daouda said. "All of the races could be organized; it could be institutionalized, and jobs could be created. But here, everything is deserted."
On one Saturday at the track, eight horses surged past, kicking up a cloud of dust as spectators cheered. The race was won by Noura Idi, recognizable in the distance by his lucky orange tasseled cap. He finished second in the first race of the day and won the last contest.
"I started with my father when I was young," Idi said. "As I was winning a lot of races in the countryside, I was made to come to Niamey."
(

0

)
(

0

)