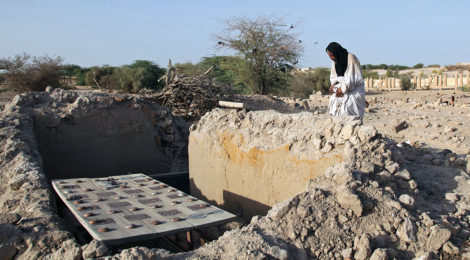 Ancient Mausoleums Reconsecrated in Timbuktu
UNITED NATIONS NEWS SERVICE
A consecration ceremony of the Timbuktu mausoleums, last conducted in the 11th century, was celebrated in February 2016 at the initiative of the local community. It was the final phase of the United Nations-backed cultural rebirth of the age-old Sahara city after the destruction wrought by extremists in 2012.
"These mausoleums are now once again standing," U.N. Educational, Scientific and Cultural Organization (UNESCO) Director-General Irina Bokova said in a message to the people of Mali. "This is irrefutable proof that unity is possible and peace is even stronger than before. We did it, and we can do it again."
Timbuktu was an economic, intellectual and spiritual capital, and a center for the diffusion of Islamic culture throughout Africa during its golden age in the 15th and 16th centuries. The site was heavily damaged by occupying extremists after fighting broke out in January 2012 between government forces and Tuareg rebels, as well as al-Qaida-linked groups.
The ceremony at the Mosque of Djingareyber began in the early morning with the sacrifice of animals and reading of Islamic verses to invoke the divine mercy to provide peace, cohesion and tranquility. It concluded with rites to reject intolerance, violent extremism and religious fundamentalism.
The mausoleums have long been places of pilgrimage for Malians and neighboring West Africans and are widely believed to protect the city from danger. Sixteen are on UNESCO's World Heritage List. Fourteen were damaged or destroyed in 2012.
The government of Mali in 2013 sought assistance from outside partners, including the United Nations. The preservation of ancient manuscripts and rehabilitation of the 14 damaged mausoleums began in March 2014, when local masons under the supervision of the imam of Djingareyber, and with support from the U.N., laid the first earthen brick to reconstruct two mausoleums.
(

0

)
(

0

)