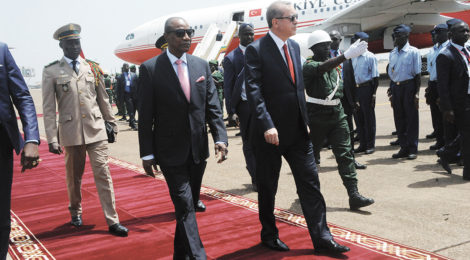 Guinea, Turkey Strengthen Partnership With Agreements
AGENCE FRANCE-PRESSE
Guinea and Turkey signed multiple deals in diverse areas including defense, health and energy during a visit by Turkish President Recep Tayyip Erdogan.
Erdogan arrived in the Guinean capital, Conakry, in March 2016, accompanied by 230 businessmen as part of a regional tour that included stops in Côte d'Ivoire, Ghana and Nigeria.
The new deals could increase annual trade between the two countries from $69 million to $500 million, Erdogan said.
The two countries signed "conventions and cooperation agreements in the domains of national defense, tourism, mining, energy, health and environment," a Guinean government spokesman said, describing the deals as a "win-win." In addition to the agreements, Turkish Airlines planned to begin flights to Guinea in 2016.
Guinean President Alpha Condé described his Turkish counterpart's visit as "just as important for the Turks as it is for us."
We "need a healthy and sustainable economic recovery" after the Ebola epidemic that hit West Africa in 2013, he said.
(

0

)
(

0

)