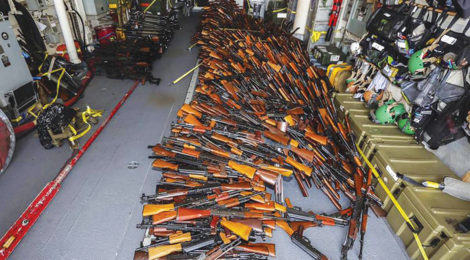 Australian Navy Intercepts Weapons Headed for Somalia
AGENCE FRANCE-PRESSE
An Australian warship seized almost 2,000 assault rifles, grenade launchers and heavy machine guns destined for Somalia in March 2016.
Sailors from the HMAS Darwin boarded a fishing boat that was headed toward the Somali coast 313 kilometers off Oman, seizing a huge cache of embargo-busting weapons hidden under fishing nets, the Navy said.
"The weapons were seized under United Nations sanctions, which authorize interdiction on the high seas of illicit weapons destined for Somalia," Australian Vice Adm. David Johnston said, adding that "such a large haul of illicit weapons is highly significant."
Sailors seized 1,989 AK-47 assault rifles, 100 rocket-propelled grenade launchers, 49 PKM machine guns and 20 mortar tubes.
If it had not been stopped, the boat would also have passed by the coast of Yemen, also in civil war. Not long after the seizure by Australian forces, French naval forces patrolling the northern Indian Ocean seized a ship loaded with weapons that also was believed to be heading toward Somalia. The cache included hundreds of assault rifles, machine guns and anti-tank weapons. The French helicopter that spotted the ship is part of the multinational Combined Maritime Forces, which patrols the Indian Ocean, the BBC reported.
(

0

)
(

0

)