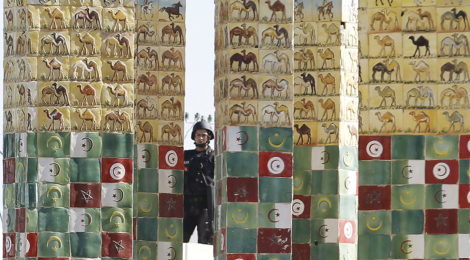 U.S., France Help Bolster Tunisian Security
AGENCE FRANCE-PRESSE/REUTERS
The United States is partnering with Tunisia to install an electronic security surveillance system on the country's border with strife-torn Libya, the U.S. Embassy said in March 2016.
The $24.9 million project involves the installation of an integrated surveillance system using sensors and regular security equipment. It includes training Tunisian forces to use the system, a statement added. No start or completion date was given.
Tunisia has built a 200-kilometer land barrier that stretches about half the length of its border with Libya to prevent militants from infiltrating. A series of deadly attacks by ISIS in 2015, which have dealt a devastating blow to the country's tourism industry, are believed to have been planned in Libya.
Additionally, France has pledged $1.1 billion over five years to help combat youth unemployment, which can leave people vulnerable to recruitment by an extremist group. The program will aid development in poor regions, foster job creation and modernize Tunisia's administration, a major hurdle to the disbursement of international aid. "There is a socio-economic breeding ground on which radicalization is prospering," a senior French diplomat told Reuters. "There is a direct link between massive youth unemployment, neglected regions and the fact that Tunisia provides one of the largest contingents of foreign fighters for jihadists."
France also pledged $22.7 million to strengthen its partnership with Tunisia's military, offering equipment and training for special forces.
(

0

)
(

0

)