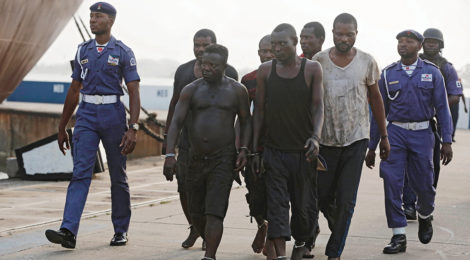 Naval Exercise Turns Real When Tanker is Hijacked
THE ASSOCIATED PRESS
What was supposed to be a naval training maneuver off the coast of West Africa turned into a rescue mission when pirates hijacked an oil tanker.
Navies from Ghana, Nigeria, Togo and the United States tracked the hijacked tanker off five countries before Nigerian naval forces stormed aboard on February 20, 2016, amid a shootout that killed one of the pirates.
Capt. Heidi Agle, commodore in charge of U.S. operations in Africa and Europe, had been directing a training exercise against piracy with maritime agencies of Ghana when the hijacking provided a real-life lesson. The first word came from the French Embassy, which sent information to Agle's USNS Spearhead via Ghanaian officials and U.S. diplomats of a possible pirate ship loitering off Abidjan, Côte d'Ivoire.
There, pirates seized the Dubai-owned MT Maximus, carrying 4,700 tons of diesel fuel, on February 11. The Spearhead tracked down the Maximus, identified it and then monitored its progress for two days as it sailed into Ghanaian waters. Then Agle handed over to Ghana's Navy, which continued to shadow the ship until it entered the waters of Togo, when that country's Navy took over.
As the pirates steamed across the Gulf of Guinea toward the tiny island nation of São Tomé and Príncipe, officials there contacted the Nigerian government for help. The tanker had sailed nearly 1,280 kilometers before the Nigerians made the assault.
Dirk Steffen of Denmark-based Risk Intelligence said the operation was "the first anti-piracy success in the region of this scale."
The rescue was directed by Nigerian Rear Adm. Henry Babalola, who said it was made possible by a maritime agreement allowing Nigeria to patrol São Tomé and Príncipe's waters.
"When we challenged them [the pirates], they said that they were in international waters" with the law of the sea on their side. But the agreement allowed the Nigerians to storm the ship after eight hours of attempted negotiations.
"International cooperation is the new mantra for maritime security," Babalola said. "We cannot go it alone."
Six pirates were captured and 18 crew members freed. Several pirates escaped with two crew members who remain hostages, Steffen said.
(

0

)
(

0

)