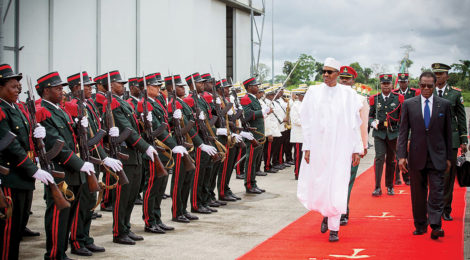 Nigeria, Equatorial Guinea Combine Forces in the Gulf
REUTERS
Nigeria and Equatorial Guinea signed an agreement to establish combined patrols to bolster security in the Gulf of Guinea, which has been plagued by pirates in recent years.
Nigerian President Muhammadu Buhari signed the agreement amid a rise in pipeline attacks in the oil-producing Niger Delta.
The Gulf is a significant source of oil, cocoa and metals for world markets, and the attacks pose a threat to shipping companies. Pirates target oil tankers, usually wanting hostages for ransom and to sell stolen fuel.
"The conclusion and signing of the agreement is expected to enhance security in the Gulf of Guinea and help in curbing maritime crimes such as piracy, crude oil theft, sabotage of oil rigs and arms smuggling," said Garba Shehu, a spokesman for Nigeria's president.
Shehu said the agreement established "a combined Maritime Policing and Security Patrol Committee."
Nigeria's information minister vowed that the government would prosecute those who attack the country's oil pipelines. Security experts say pirates have emerged from militant groups in Nigeria's oil-producing Niger Delta, such as the Movement for the Emancipation of the Niger Delta.
(

0

)
(

0

)