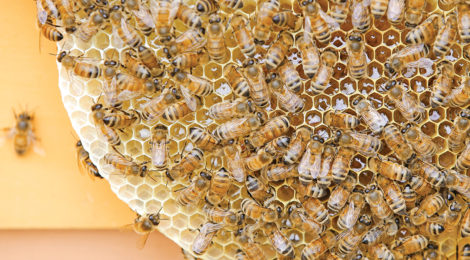 Ethiopian Entrepreneurs Turn to beekeeping
THOMSON REUTERS FOUNDATION
Beekeeper Ayenalem Ketema is the proud owner of three hives, which have produced enough honey for the young Ethiopian to build a house equipped with solar panels and buy some farm animals with the proceeds.
Ketema, who lives in Jimma in southwestern Ethiopia, left school when she was 17 and has kept bees for four years.
"I have benefited a lot from using a modern beehive," said the young farmer, now 22. She belongs to the Boter Boro Cooperative, whose members run 50 beehives among them. With the profit from the 60 kilograms of honey she harvests each season, Ketema now has bigger ambitions.
"I plan to open up a wholesale honey shop where I can sell high-quality honey in large quantities in a bigger market," she said.
Ketema benefited from a project led by the International Centre of Insect Physiology and Ecology (ICIPE), which launched a fresh program in March 2016 to provide work for about 12,500 young Ethiopians in beekeeping and silkworm farming.
Nairobi-based ICIPE and the MasterCard Foundation plan to invest $10.35 million in the five-year project, which will support out-of-school and unemployed people between 18 and 24 with starter equipment and training.
The Young Entrepreneurs in Silk and Honey initiative will involve an additional 25,000 people in the value chain, from harvesting to processing, packaging and marketing of the two sets of products.
Ethiopia is Africa's leading honey and beeswax producer, but honey production is largely traditional and only reaches about 10 percent of the country's potential, experts say. The Horn of Africa nation produces dozens of honey varieties that could be of interest for the export market, said ICIPE Director General Segenet Kelemu.
"The project will help to ensure food security, promote more tree-planting than tree-cutting, and encourage agro-forestry programs to flourish," Kelemu said.
Bees pollinate a wide range of crops and plants, playing a key role in the provision of food and nutrition. They also pollinate forage plants, indirectly supporting milk and meat production.
"Without bees and other related insect pollinators, our lives would be negatively impacted," Kelemu said. "This work will be generating great incentives to take care of bees and their well-being."
With the amount of annual global food production dependent on pollinators estimated at between $235 billion and $577 billion, bees must be included in plans to feed the world's growing population, she added. Bees require flowering trees and vegetation from which they can secure high-quality pollen and nectar year-round. This means the young Ethiopian beekeepers will have to conserve trees and plant more of them, while reducing the use of pesticides that harm bees.
Alemayehu Konde Koira, senior manager of the Youth Livelihoods Program at the MasterCard Foundation in Toronto, said the modern hives that will be used in the Ethiopia project can produce 20 kilograms of high-quality organic honey each season, compared with traditional beehives, which yield 6 to 8 kilograms of low-quality honey.
(

0

)
(

0

)