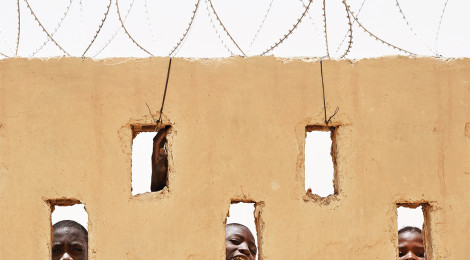 Young Malians Look For Opportunity
A group of Malian children playfully peer through holes in a wall that surrounds the United Nations mission camp in Goundam, in the Timbuktu region.
As the children play, Malian and French security forces participate in the joint operation La Madine 3, part of Operation Barkhane. The French-led 3,000-member counterterrorism force spreads across five Sahel countries: Burkina Faso, Chad, Mali, Mauritania and Niger. Barkhane supersedes France's Operation Serval, which worked to restore order in Mali after an Islamist uprising that began in 2012. The U.N. Multidimensional Integrated Stabilization Mission in Mali (MINUSMA) deployed in July 2013.
Unrest in Mali is entering its fourth year. In 2012, several jihadist groups — chiefly al-Qaida in the Islamic Maghreb, Ansar al-Dine, and the Movement for Oneness and Jihad in West Africa — took control of several cities in northern Mali, wresting them from armed Tuareg separatist groups such as the National Movement for the Liberation of Azawad that were demanding autonomy from the government in Bamako.
Since that time, hot spots have arisen across West Africa and the Sahel. Growing youth populations in the region are vulnerable to radicalization. In Mali alone, two-thirds of the population are under age 25, and the number of people under 35 is expected to nearly double by 2030. Those demographics, mixed with poverty and a lack of jobs, provide extremists with prime recruiting opportunities.
Many young people in Timbuktu, in northern Mali, are choosing crime and radicalization to make a living, according to an article for The Broker website by Marije Balt, a Dutch former diplomat in Africa.
A lack of economic opportunities "provides a breeding ground for well-funded criminal and radical groups, which is penetrating further into Mali despite the presence of the 12,000-strong MINUSMA mission," Balt wrote. "Viable economic alternatives such as formal jobs and businesses are needed to prepare Mali for the youth bulge expected in 2030.
Balt points to agriculture development, infrastructure investments and tailored training as ways to help young Malians.
"There are no shortcuts for achieving this outcome," she wrote. "It requires a holistic, long-term and politically courageous approach from both the Malian government and the international community."
(

0

)
(

0

)