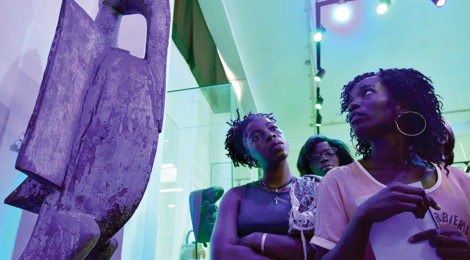 Côte d'Ivoire's African Art Museum Gets New Lease on Life
AGENCE FRANCE-PRESSE
The Museum of Civilisations of Côte d'Ivoire is back and determined to recover its place as one of the richest museums of African art in the world — a place of "incomparable wealth," as Senegal's late poet-president Leopold Sedar Senghor said in a 1971 visit.
Looted four decades later during a political and military showdown, the museum closed for a two-year refurbishment, reopening in July 2017 with redecorated rooms, modern lighting, and a new conference center, restaurant and garden.
The first exhibition since the renovation is called Renaissance and spotlights a selection of 100 of the museum's finest pieces.
"We can consider ourselves lucky to have such a beautiful collection," museum director Silvie Memel Kassi told Agence France-Presse. "It's an asset — a collection of 15,000 pieces from across every region."
Still, she mourns the pillage that occurred in 2011, during a postelectoral time of anarchy in the country's economic capital, Abidjan, that claimed 3,000 lives.
"That really left us with a bitter taste in the mouth," she said. "The [120] items that were looted were major works: sacred pieces, objects made of wax. … Our estimate is that almost 4 billion CFA francs ($7.1 million)" were lost, Memel Kassi said.
The museum planned a "ghost collection" exhibition to keep the memory of the vanished pieces alive and to promote recognition of illicit trafficking in historical objects.
Founded in 1942 when France was the colonial power in much of West Africa, the museum is itself a work of art with 20 finely sculpted wood columns.
The renovated premises give special place to contemporary artists, with a hall set aside for people such as Ivoirian sculptor Jems Koko Bi. The garden displays recent work.
"We deliberately speak of the museum of civilizations," the director said. "We wanted to show that the artists whose creations are today regarded as 'ancient works' are the very same as Africans producing contemporary work."
(

0

)
(

0

)