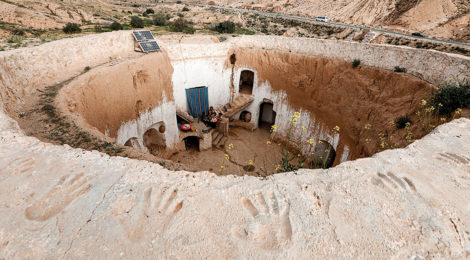 Last Residents Hold on in Tunisia's Underground Houses
REUTERS
In southern Tunisia's Djebel Dahar region, people have lived for centuries in underground houses with earthen casing that provides protection against searing summer heat and winter winds.
Rural depopulation has meant fewer people live in the homes, whose rooms are hewn into the walls of an excavated circular courtyard. The few remaining families say they are attached to the homes and the land or see no way of moving.
"My father died, my mother died, the girls got married and I was left alone. They all went to lead their own lives," said Latifa Ben Yahia, 38, who lives in a five-room home in the village of Tijma. "If I leave, then the house will be gone."
The homes are concentrated around Matmata, 365 kilometers south of Tunis. Many residents left the houses when new towns and villages were built in the 1960s and 1970s as part of a modernization drive by President Habib Bourguiba.
Droughts and heavy rain, which can cause the houses to collapse, also prompted people to leave. Some built modern houses on adjoining land, using the traditional homes as stables or workshops.
Residents live largely off olive farming and tourism. Saliha Mohamedi, 36, lives in a house with her husband and four children. She lets tourists visit  for tips. "If I got another house, I would give it to [my children]. This is where we have passed our lives," she said.
Hedi Ali Kayel, 65, who runs a small shop in the village of Haddej, is one of the last people in the area who knows how to build and maintain the houses. The last new house he dug was in the 1970s.
Now he is fighting a lonely battle to save the ones that still exist. "Every time there's rain, I come and repair them," he says. "I don't let them go."
(

0

)
(

0

)