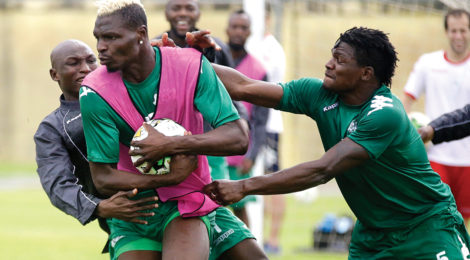 He's the Marco Polo of Football
BBC NEWS AT BBC.CO.UK/NEWS
Ivoirian Aristide Bancé is football's version of Marco Polo. Since debuting for the Ivoirian club Stade d'Abidjan in 2000, the 33-year-old has played for 20 professional clubs, including time in Belgium, Burkina Faso, Dubai, Egypt, Finland, Germany, Kazakhstan, Latvia, Qatar, South Africa, Turkey and Ukraine.
He currently plays for Al Masry of Egypt, where football matches are under tight security. "It's a shame that matches here are played behind closed doors at the moment, for security reasons," he explained. "It would be really super if the supporters could come back into the stadiums."
In 2012, thousands of spectators stormed the field at Port Said Stadium in Egypt, killing 74 people and injuring more than 500. A second stampede in 2015 killed 25 people. Since then, most football matches in Egypt have taken place without fans in the stands.
Bancé was born in Abidjan, Côte d'Ivoire, but moved to Burkina Faso as a child. He has a few pointers on how to adapt to playing football for a new club, in a new country or even on a new continent.
"I think humility is important, and it's necessary to stay simple and respect others," said the striker, who, as a member of the national football team, helped Burkina Faso reach its first Africa Cup of Nations final in 2013.
He has appeared for Burkina Faso at three Africa Cup of Nations tournaments. He scored both the team's goal and the winning kick in the penalty shootout in Les Étalons' semifinal defeat of Ghana in 2013 to put the nation in the final for the first time in its history. Burkina Faso went on to lose the final to Nigeria. At the 2015 Africa Cup of Nations, Bancé scored Burkina Faso's goal in a 2–1 loss to the Democratic Republic of the Congo.
(

0

)
(

0

)