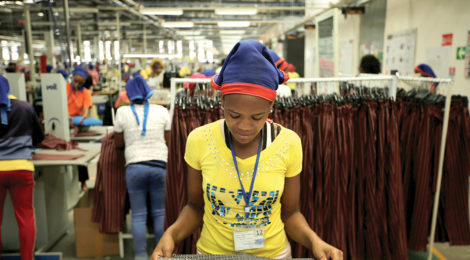 Ethiopia bets on clothes to build industrial future
REUTERS
Checkered shirts for the American chain Gap. Slate leggings for Swedish store H&M. Twill shorts for Germany's Tchibo. They are among a growing list of clothes being stitched together for big brands in Ethiopia.
As labor, raw material and tax costs rise in China — the world's dominant textiles producer — the Horn of Africa country is scrambling to offer an alternative and compete against established low-cost garment makers such as Bangladesh and Vietnam.
Since the industry is still young, most of the clothing companies sourcing production in Ethiopia are testing the waters with small volumes. But the government is working hard to attract business with tax breaks, subsidies and cheap loans. The landlocked nation also opened the final stretch of a 700-kilometer electric railway to Djibouti's coast.
This is part of a drive to turn the nation into a manufacturing center that is no longer held hostage to fickle weather patterns that periodically devastate the agrarian economy and leave its people hungry. There has been some progress; foreign investment in the textile industry has risen from $166.5 million in 2013-14 to $1.35 billion in 2016-17, said the Ethiopian Investment Commission.
Although it is growing, Ethiopia is still a small player in terms of global textile exports. Ethiopia totaled $115 million in 2015, against Vietnam's $27 billion, Bangladesh's $28 billion and China's $273 billion.
Ethiopia's fledgling sector can ill afford the kind of working conditions scandals that have dogged the low-cost garment industry elsewhere, and officials said they are sending representatives to Asia to learn best practices.
"This is a huge success," said Arkebe Oqubay, a prime ministerial advisor, during the inauguration of an industry park in the northern Ethiopian town of Kombolcha. "The challenge now is to bring the world's biggest companies into the country."
(

0

)
(

0

)