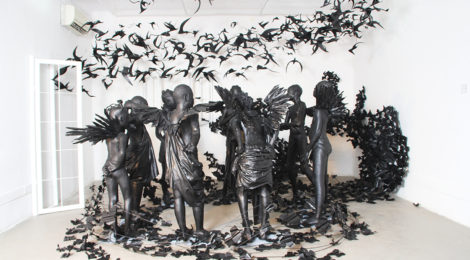 Nigerian Artist Wins Prestigious Prize
BRAND SOUTH AFRICA
Nigerian artist Peju Alatise won the South African 2017 FNB Art Prize, one of the most coveted art awards on the continent.
Her work focuses on the experiences of contemporary African women. Alatise's early paintings, later sculptures and current installations were showcased in September 2017 at the annual First National Bank Joburg Art Fair.
The fair, one of South Africa's leading art events, featured more than 60 exhibitions across five categories, including traditional and modern art. Artists and cultural organizations from 11 countries participated.
Born in 1975 in Lagos, Nigeria, Alatise studied architecture before being inspired by the jarring visual art of fellow Nigerian artist David Dale. She later trained with Dale and worked with traditional artisans around Africa, learning to incorporate materials such as beads, cloth and natural resins into her ambitious works.
Alatise has exhibited around the world, including at the Smithsonian Institution's National Museum of African Art in the United States and the Venice Biennale in Italy, one of the world's longest-running and most respected art events. Her earlier paintings and more recent
multimedia pieces also are in a number of private collections and permanent exhibits around the world.
The Biennale, Alatise said, is "the highest level of exhibiting an artist can be honored with." She told CNN, "It is the Olympics of the arts." The particular work exhibited in Venice, titled Flying Girls, is an eight-sculpture installation of winged girls, representing "a strong societal narrative on the realities faced by women in Africa."
(

0

)
(

0

)