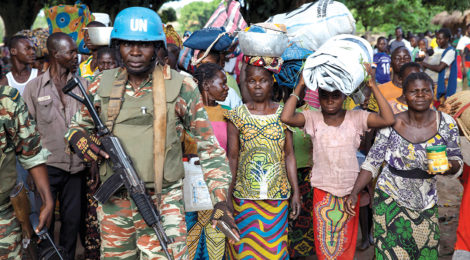 U.N. Moves to Reform peacekeeping missions
THE ASSOCIATED PRESS
The United Nations Security Council has backed reforms to reduce inefficiencies, corruption and abuse in far-flung peacekeeping operations.
Although many peacekeeping missions have been hailed as successful — Sierra Leone most recently — others have been criticized for sexual abuse violations and corruption, especially in the Central African Republic and the Democratic Republic of the Congo.
There are 16 U.N. peacekeeping operations underway, with more than 100,000 personnel, at an annual cost of nearly $8 billion. The U.N. has said that, adjusted for inflation, the cost to member states has decreased by 17 percent in the past decade. "Peacekeeping remains a highly cost-effective instrument," U.N. Secretary-General Antonio Guterres told the council. Still, he outlined reform plans with four goals in mind.
The first, he said, is ensuring that "peace operations are deployed in support of active diplomatic efforts, not as a substitute." To that end, Guterres has changed the structure of the U.N. Secretariat to consolidate the management of peacekeeping operations and large political missions.
The second challenge is ensuring that peacekeepers are properly equipped. Guterres said there are critical gaps in technology, transportation, intelligence and other capabilities. The Security Council resolution called on member states to fulfill pledges to provide those capabilities and asked Guterres to provide a report within 90 days on a mechanism to fill the gaps.
The third goal is to stamp out corruption and abuses, particularly sex abuse scandals, that have tarnished the reputation of U.N. peacekeeping.
Guterres said he has taken "strong steps" to fight the problem, which he says has haunted him. He pointed to the appointment of a victims' rights advocate and a requirement that member states certify before deployment that none of their personnel has a history of misconduct.
The Security Council was divided over a fourth goal, that of strengthening partnerships with regional entities, especially the African Union, which has taken the helm of various peacekeeping operations. Council members disagreed on whether to help finance AU operations on a case-by-case basis with U.N. contributions. In the end, the Security Council resolved to consider steps toward establishing a mechanism through which AU operations could be partly financed by the U.N.
(

0

)
(

0

)